As we know now Google has change their keyword planner tools for the use of Google Adwords users only. Also the display result in in estimation like 10k – 100K, which is a huge different with the previous version where exact search volume is show instead of this approximate number.
Besides, it is also very hard now to tell if a keyword is either competitive or not since the information provided in Google Keyword Planner is rather vague.
New Solution
Due to this, there appear a lot of keyword research website on the internet. But unfortunately, most of these websites are of paid version. And almost all of them are request to pay per month in order for you to use their website to do keyword research.
This is rather hard especially for beginner who just started their websites and have not much budget to spend on this monthly service.
To help in solving this issue, we can try to find a way to mitigate the burden and get something free so that we can save the cost for other SEO thing. Maybe we can then subscribe to their service once we have make some steady income and have extra money to invest in the SEO tools.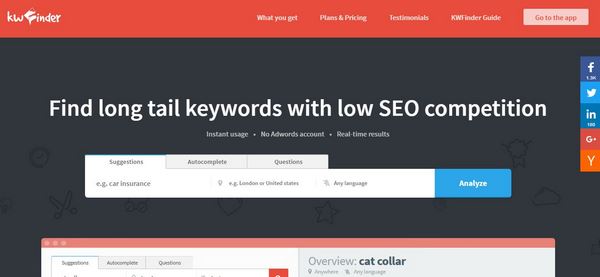 Here is one of the ways that I would love to share with you on how you can do your keyword research on paid website for free.
Cool Keyword Research Portal: KWfinder
Open your browser and type in: https://kwfinder.com/
This is the website that I use a lot to carry out my keyword research task. The website have a lot of information such as the competitiveness of the keywords with score of 1-100, the lower the score indicate the easier the particular keyword is to rank in Google first page.
Besides, you can also have other information like who your competition is, other similar keywords and so on.
But, as I mentioned this is a paid website, so you are only allow to use this website for 3 times in 24 hours. Once you use up the research for 3 keywords, you will need to wait for 24 hours then only you can do another 3 keyword research. If you need to do a lot of keyword research, then this will be a problem for you.
However, there still some doable way which I will show to you below:
Make Use of Free Proxy
You may try to search for a free proxy browser by searching in Google. Here are the 2 that you can try:
https://www.sumrando.com/proxy.aspx
http://server2.kproxy.com/
Once you go to this free proxy website, you may simply type in the url of KwFinder in the search field of these proxy websites. With the hidden of your ip through proxy browser, KwFinder will treat your visit as a new user and you can now do 3 more keyword research.
Like that after 3 more keyword being used and KwFinder ask you to sign up again or wait for another 24 hours, you just need to go back to the proxy browser and change the proxy. So just keep repeating the process and you will be able to do a lot of researches.
Hope you find this is helpful for you.